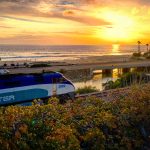 Coastal Encinitas is a quintessential representation of a relaxed, family friendly beach town.  
Downtown Encinitas is bustling with restaurants and shops, filled with residents and visitors alike.  Encinitas is also home to countless beaches, parks, and hiking areas.  The city boasts some of the best surfing locations in San Diego county, including Swami's beach, Moonlight Beach, and Grandview Beach.  Swami's Beach is an internationally recognized surfing location, and is also one of the only point breaks in San Diego County.  Moonlight Beach is one of the most popular beaches in Encinitas.  The beach is also a well known surf spot, but is more friendly for family and friend gatherings.  The beach features volleyball nets, fire pits, and a conveniently located drop off area for visitors with a lot of stuff to carry.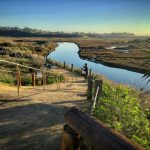 Other beaches include Stonesteps Beach, Beacon's Beach, and D Street Beach, but all areas are great for families and visitors looking for a relaxing day of sunbathing and enjoying the water. Coastal Encinitas also has no shortage of parks and recreational areas.  
Locations that feature children's playgrounds and picnic areas include Oakcrest Park, Glen Park, Orpheus Park, and the famous Encinitas Community Park.  Encinitas Community Park has something for everyone.  The Maggie Houlihan Memorial Dog Park is great for accommodating pet owners, The picnic area is perfect for family gatherings, and there are plenty of athletic facilities available as well, including a skate park, children's play area, baseball fields, and soccer fields.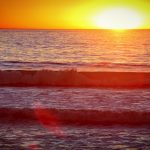 Downtown Encinitas has a rich history, and boasts countless restaurants and shops, most of which are small businesses.  Darshan Bakery & Cafe is part of old Encinitas, and is one of the top rated eateries in Encinitas.  It is a favorite of local residents, and offers a wide selection of organic pastries, coffee, and sandwiches.  It makes the perfect stop for a quick bite on the way to the beach.  For visitors seeking or more hearty meal, Urban Solace is one of the most popular restaurants in the area.  It is located in the heart of downtown Encinitas, and offers a modern spin on traditional American Cuisine.  The restaurant also recently upgraded its menu, which now features fresh, local ingredients, and an increase in vegan options to make eating consciously a breeze. 
For those seeking a serene, welcoming environment, Coastal Encinitas offers the perfect intersection between family friendly residential areas and a bustling coastal community.