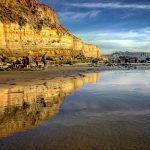 Coastal Del Mar offers the serene, luxurious lifestyle of a coastal community, but it features plenty of opportunity for outdoor adventures and family oriented activity.  
The Del Mar Plaza features countless boutiques, restaurants, salons, bars, and more.  The shopping center also features award winning restaurants, such as Rendezvous, which has been voted San Diego's best Chinese Cuisine five years in a row.  Many restaurants in the Del Mar Plaza also offer breathtaking ocean views, such as Pacifica Del Mar.  The restaurant serves a variety of culinary options, including fresh seafood, steak, and pasta.  
There is also no shortage of shopping opportunities at the plaza, which features a number of luxury boutiques and stores to fulfill the needs of anyone looking for some retail therapy. For customers seeking affordable yet contemporary and chic fashion choices, Coco Rose is a go-to boutique.  For a more special occasion, such as a wedding, birthday, or anniversary, Loghman Jewelers offers a wide selection of luxury jewelry and watches.  The Del Mar Plaza even includes a few galleries, such as the Erik Skoldberg Gallery, which offers art classes for both adults and children, and Michael Seewald Galleries, which also offers art classes from an award winning painter and photographer.  All of these shops, restaurants, and galleries are top rated, and are just minutes from beach.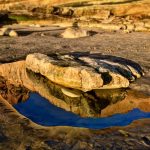 Coastal Del Mar also features numerous state beaches and lagoons.  Torrey Pines State Beach is only a minute or two from Del Mar's downtown area, and has plenty of parking area, both free and paid.  There is also a hiking trail along the Torrey Pines State Park, and inside Crest Canyon, located in what is referred to as the back side of Del Mar.  The beaches in Del Mark feature a thriving Giant Sea Kelp Forest,  and an abundant fish population.  The San Diego River Lagoon also offers another option for those seeking out an experience in a natural environment.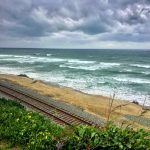 The Del Mar racetrack is also a huge attraction during horse racing season, and is a perfect attraction for family and friends to attend.  
Coastal Del Mar offers the perfect environment for those seeking a serene, sophisticated community with luxurious amenities and a family friendly lifestyle.