San Diego is my hometown. I grew up in Point Loma and have fond memories of riding my bike through the unique neighborhoods, sailing out of the San Diego Yacht Club and enjoying the beach in the Summer.
My name is Rachel Collins Friedman and I am a San Diego realtor with Pacific Sotheby's International Realty. Being a native San Diegan and currently living in Solana Beach, I really have an intimate knowledge of all the San Diego County neighborhoods. I am a member of the San Diego Museum of Art, a volunteer at the Helen Woodward Animal Center, an avid gardener and dog mom to two Yorkshire Terriers.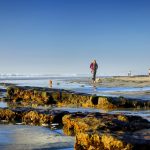 Coupled with having my business degree from the University of Southern California and experience in corporate sales and marketing, I have a solid background to assist my clients in navigating the buying and selling process.
I believe it is important for a realtor to possess three important qualities; trustworthiness, responsiveness and knowledge.
Because trust is something that is earned, not given, I make it my priority to always have my client's best interest at heart. In doing so, we can develop a relationship built on trust and they will know that I don't see them as merely a transaction, but as a valued client.
As a San Diego realtor, I am available for my clients from 9:00am to 9:00pm and return any missed phone calls right away.  This type of responsiveness keeps my clients in the loop so that they always feel informed.
And lastly, it is important to have a realtor who is knowledgeable, not only about the market, but someone who has a deep understanding of the purchase contracts and the transaction process. I really focus on being an agent who can solve problems and has the organizational skills to make everything happen as smoothly as possible.
Buying a home is a major life event and Rachel really pays close attention to the criteria you have for your ideal home and is able to find the right home at the right price. We greatly appreciate her helpful guidance and assistance throughout the transaction process. – Client
Sotheby's has an international reputation for excellence so it is no coincidence that as a Sotheby's agent, Rachel continues providing this level of excellence. With her valuable marketing experience she can market your home to the widest possible audience and seamlessly handle every detail from start to finish. – Client
As someone who has designed and remodeled four of my own homes, I am able to apply both my real estate knowledge and expertise on home selling strategies, from both a financial and creative perspective.
I love that I am affiliated with a company that has the same high standards that I do. Sotheby's has an international reputation for excellence. They believe in offering the highest level of excellence in everything they do, from print media and online advertising to "white glove" customer service.
Even though I have lived here my whole life there is always something new to discover in San Diego. Knowing that, work is always exciting because we are constantly growing and evolving to create the best experience for the client.