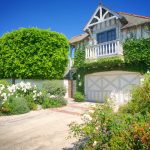 Located in the exclusive  St. Malo community in Oceanside, offering 24 hour guards and security, sits the stunning French Normandy home; 113 Eaton Street. This San Diego seaside cottage is surrounded by beautiful ficus trees and boasts a flowered garden and gazebo in the private courtyard entrance.  
With 3 bedrooms, 2 optional rooms, 3 baths and 2,313 square feet, this elegant home features vaulted ceilings, a hand-carved fireplace, and cathedral shape windows. Cook in the custom designed kitchen or unwind in the second level guest or master suite with a balcony overlooking the courtyard. Enjoy your breakfast in the sun kissed kitchen with walls of windows looking onto an outdoor patio.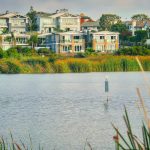 Developed in the early 1900's by founder Kenyon Keith- Architect/Builder, Keith envisioned a French Country seaside dream development that includes a private beach, tennis courts, volleyball for residents to enjoy for many generations. This San Diego seaside cottage is also close to neighborhood coffee shops and trendy restaurants. 
113 Eaton St "The Tile House", a magical place to call home…
Family friendly coastal Oceanside offers the perfect combination of outdoor activity, perfect weather, and family friendliness.  Downtown Oceanside has no shortage of restaurants, shopping, and other activities perfect for a weekend morning out with family.  Oceanside prides itself on its abundance of small businesses, so buyers can be sure that they're making ethical purchases.  For those who want to stay in touch with their creative side, Oceanside even features art shows.  Attendees can also enjoy live music, and even participate in interactive art pieces, making the event perfect for all ages.